Google Arts & Culture is an incredible app that allows you to walk around some of the most amazing museums and galleries in the world via your smartphone and even in VR. While you're there, you can zoom in on some of the world's most famous artworks, view some of the best exhibits, and even set up your own virtual collections to show your friends.
In a new initiative called the Open Heritage Project, Google Arts & Culture is teaming up with the non-profit organization CyArk to help preserve some of the world's most vulnerable cultural heritage sites so that they can be saved for future generations and presented in virtual reality using the Google Arts and Culture app.
CyArk was founded by Ben Kacrya who helped develop some of the world's first 3D laser scanning technology. Kacrya founded CyArk when he realized that his technology could be used to help preserve the world's monuments that are most at risk from destruction via natural disasters, war, or even tourism. Since 2003 CyArk has been traveling the world and using the laser scanning technology developed by Kacrya, DSLR cameras, and drones to help create accurate 3D models of at-risk cultural monuments. As well as creating the models, the highly accurate scans and high-resolution images can help identify damaged areas and assist restoration work.
Google's partnership with CyArk gives the search giant access to the impressive catalog of scans and images that the non-profit has built up over the last 15 years. Using CyArk's data Google has created stories relating to over 25 iconic sites throughout 18 countries around the world, including 3D models viewable from all angles. Even more impressive, Google has already begun recreating key monuments from certain sites so that you can actually walk in and around them using your smartphone, computer, or virtual reality viewer.
The first such site that has received the full treatment is Eim Ya Kyuang in Bagan, Myanmar. Bagan was captured by CyArk before an earthquake hit in 2016 and damaged many parts of the city. Speaking in a Google Blog post about the new Open Heritage Project, Chance Coughenour who is the Program Manager of Google Arts & Culture said:
"Before disaster struck… CyArk's team had scanned and photographed the site—inside and outside, from the ground and from above. Using the data they collected, we reconstructed Bagan's key monuments in 3D so you can now travel through this breathtaking place and even step inside the temples."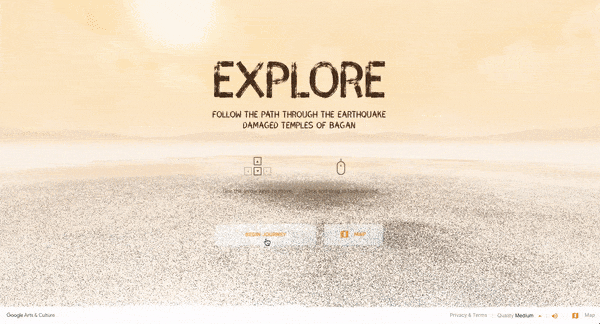 Google's reconstruction allows you to see the site as it was before it was damaged by the earthquake and is the perfect example of the fantastic work CyArk has been doing and how this new partnership with Google will help bring it to the world.
The Open Heritage Project makes all of this data available to anybody who'd like to use it for non-commercial reason. This is an exciting development for both global conservation and education. Future generations will be able to explore our past, even if the evidence physically disappears. Today, we have access to the world's most magnificent artworks, exhibitions, and monuments in a way that people couldn't even imagine in the past. To experience this for yourself right now, all you have to do is download the free Google Arts & Culture app. What are you waiting for?